Private transfer 24/7
Make your transfers a unique experience
What a pleasure to experience exclusive luxury 24/7.
Enjoy a private transfer between the destination of your choice, hotel, restaurant, Vaitape or the airport.
Each transfer includes free WiFi access, mineral water, oshiboris and a selection of music of your choice.
Even if it's raining, the captain will welcome you with umbrellas, this is the  Lady Pearl  service.
The "VIP Arrival" option: personalized welcoming with flower crowns, fresh oshiboris, half a bottle of Veuve Clicquot champagne.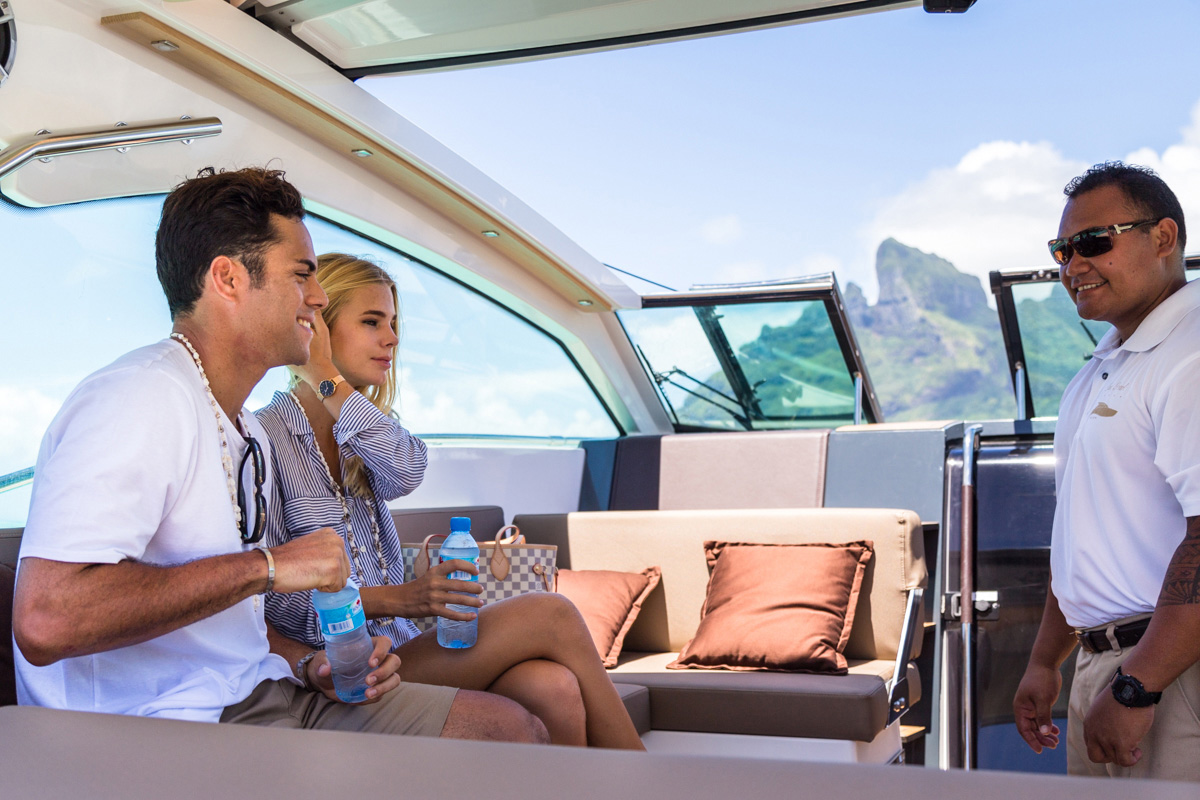 Do you want to discover Bora Bora differently, in private and especially at your own pace?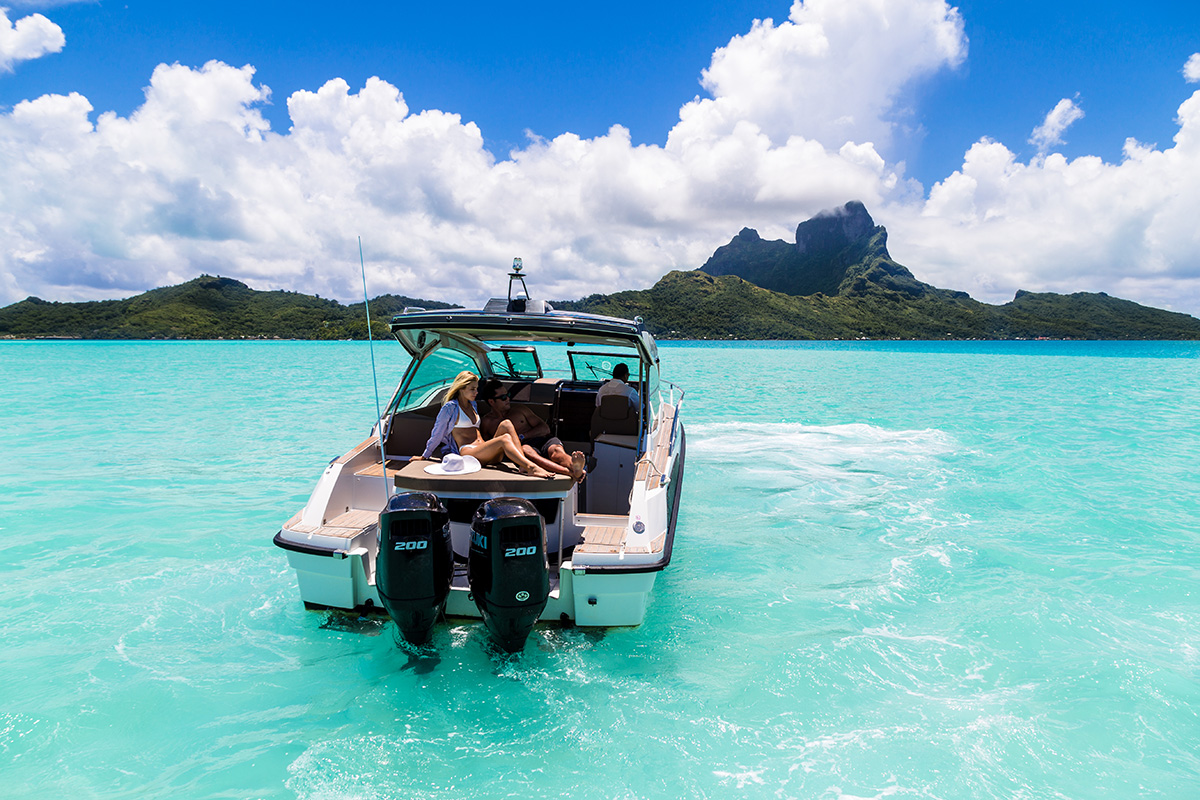 The Lady Pearl service offers you a tour of the island in 2 hours, during which the captain will tell you the story of Bora Bora, its specificities but also its many legends while enjoying the exceptional comfort of the boat, sitting or lying down on the sunbath, taking advantage of the sun or the shade of its roof, it is for you to decide.
Refreshment service is available at no extra cost, as well as free WiFi to share your experience on social networks.
Relax, the Lady Pearl service takes care of everything.
Boat rental with chauffeur 24/7
Enjoy at your own pace according to your needs, your desires
Many of our visitors want to enjoy the beauty of Bora Bora without the constraints of hotel shuttles. The private service Lady Pearl gives you this freedom.
A wedding proposal, a birthday, a celebration or an important event, enjoy a dinner without worrying about hotel shuttle schedules or simply touring the island at your own pace? We offer a service of provision, tailor-made service for a demanding clientele.
Book a boat rental with chauffeur for a duration of your choice (minimum 2 hours) and enjoy the Lady Pearl at your own pace. The captain will be here for you. The Lady Pearl service is also tailor-made ...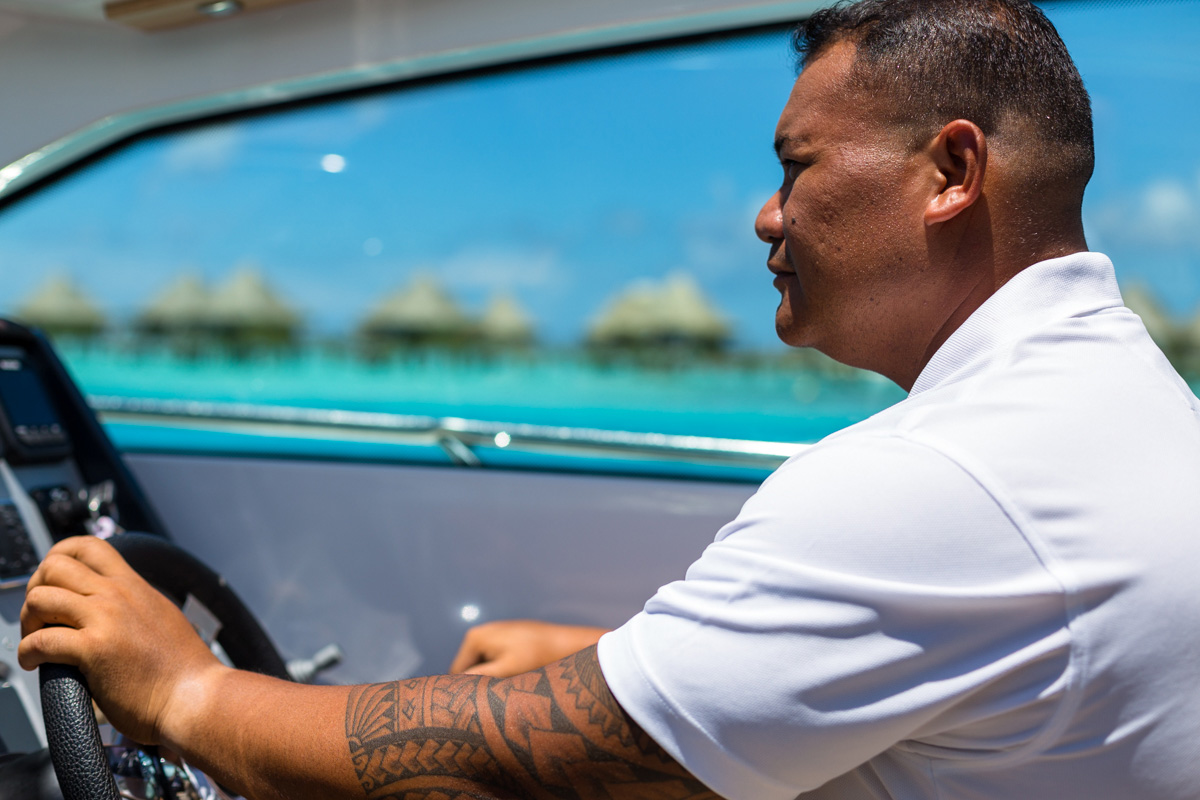 For an exceptional wedding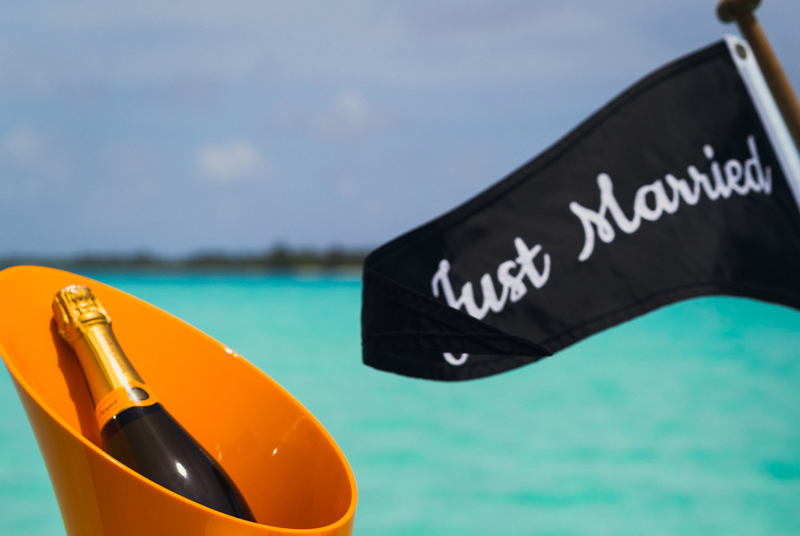 For an exceptional day such as your wedding in Bora Bora, you need an exceptional boat!
The Lady Pearl offers the bride and groom to go to the town hall of Vaitape in the most beautiful way, on the most beautiful lagoon in the world.
No bride disheveled because of the wind or dress wet by splashing or rain. This day must be perfect! With Lady Pearl, it will be! Because we have rainy days (not many) the captain will be honored to accompany the bride and groom to the town hall under umbrella protection.
Each private transfer includes free access to WiFi , mineral water, oshiboris and music of your choice.
Sunset Cruise
A unique private cruise
A marriage proposal, a honeymoon, a wedding anniversary, engagement or simply the pleasure of being alone with your beloved?Let us show you another aspect of the lagoon through an unforgetable sunset.
The captain will take you, gently, in the most beautiful places so that you succumb to the beauty of the show that is offered to you, only for you.Lie on the big sunbath and enjoy.
The captain will serve you a half-bottle of a great champagne that you will enjoy with a tray of delicious petits fours, all with a background music of your choice.
Looking forward to sharing this moment on social networks? A WiFi connection is available at no extra charge.Mineral water and oshiboris are also offered.Do you want to end your evening in a restaurant of your choice? We will drop you off at no extra cost.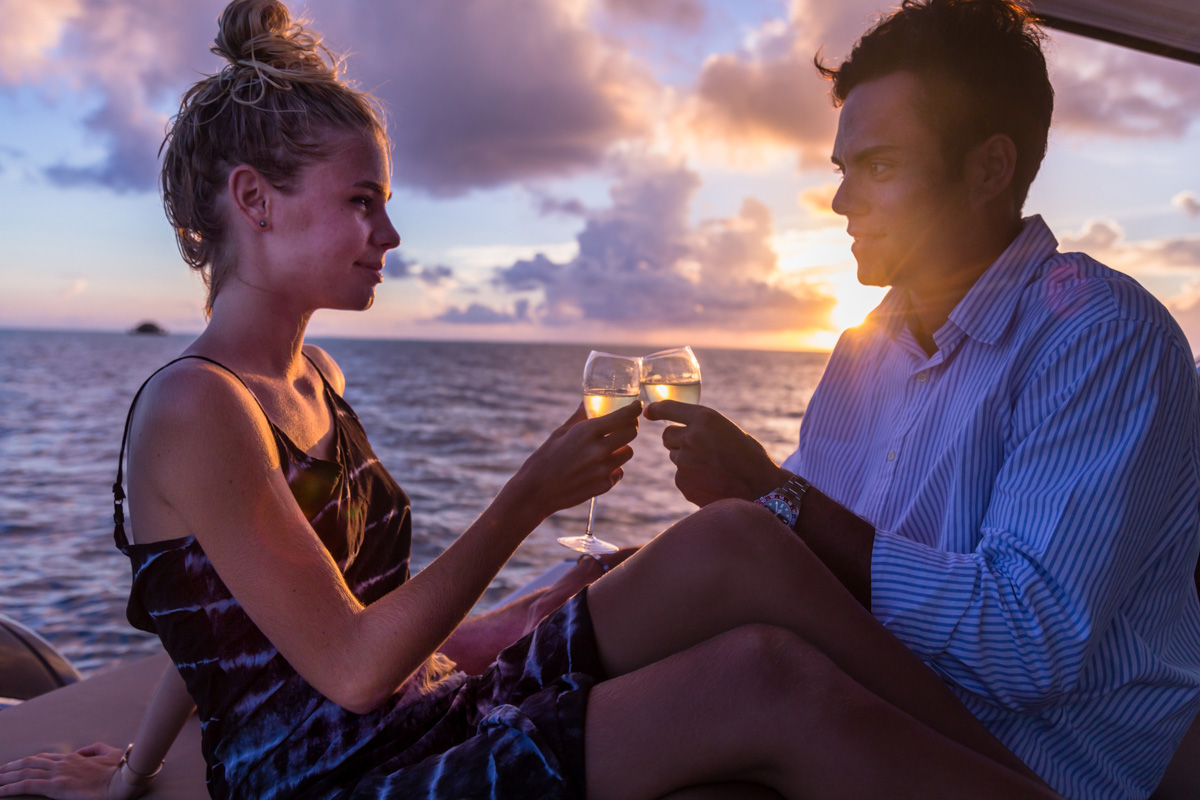 The options
To personalize and sublimate your experience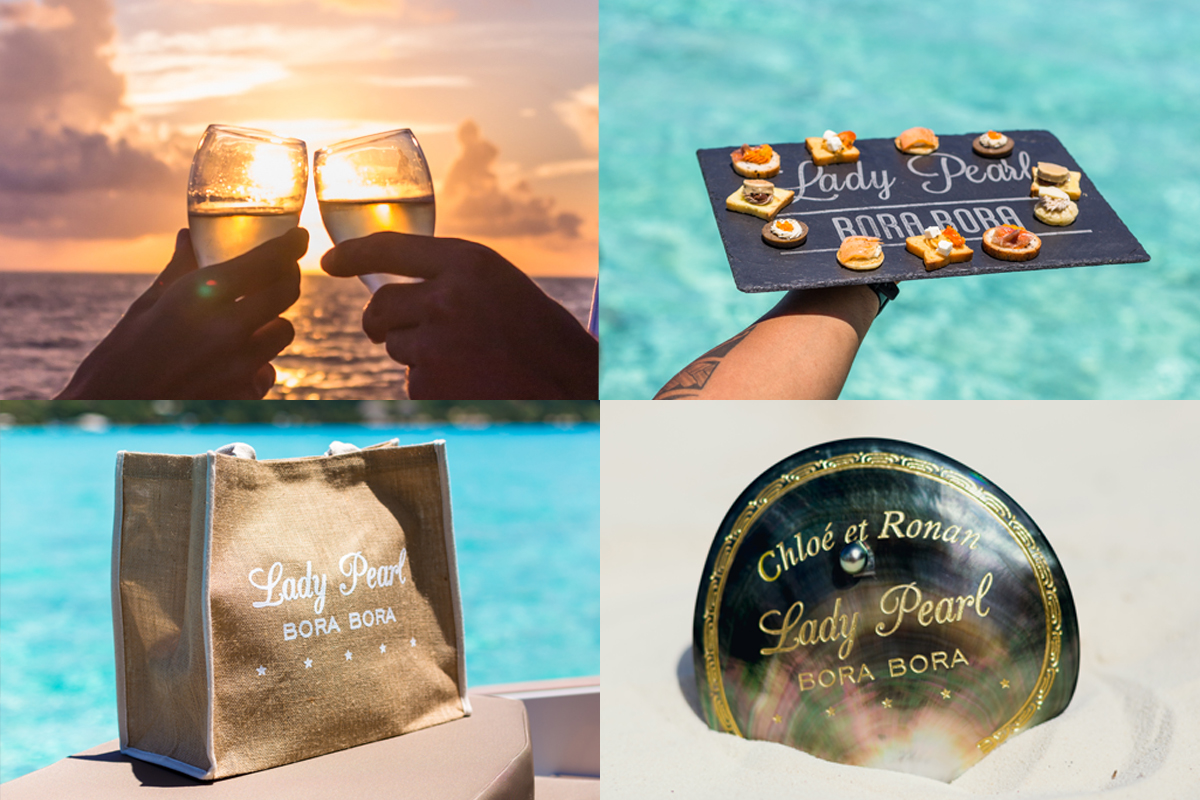 Because the high end is not enough for some, the Lady Pearl service has created the Lady Pearl Exclusive service. A choice of additional options to bring home memories of an unforgettable experience.
 The

Lady Pearl

bag is the women's friend, a great option to carry the wedding papers, make a beach bag or bring as a souvenir or gift to your loved ones.
The champagne Veuve Clicquot: It is included in the sunset cruise but it is optional on other transfers. What better than to enjoy a glass of great champagne to celebrate your union or simply to celebrate your exceptional stay on the pearl of the Pacific.
The engraved shell: French Polynesia is a famous destination for honeymoons and wedding anniversaries. It is also famous for the black pearl. This shell is presented with a pearl that can be mounted as a jewel of the customer's choice.
Contact us for booking.